From Here to Uncertainty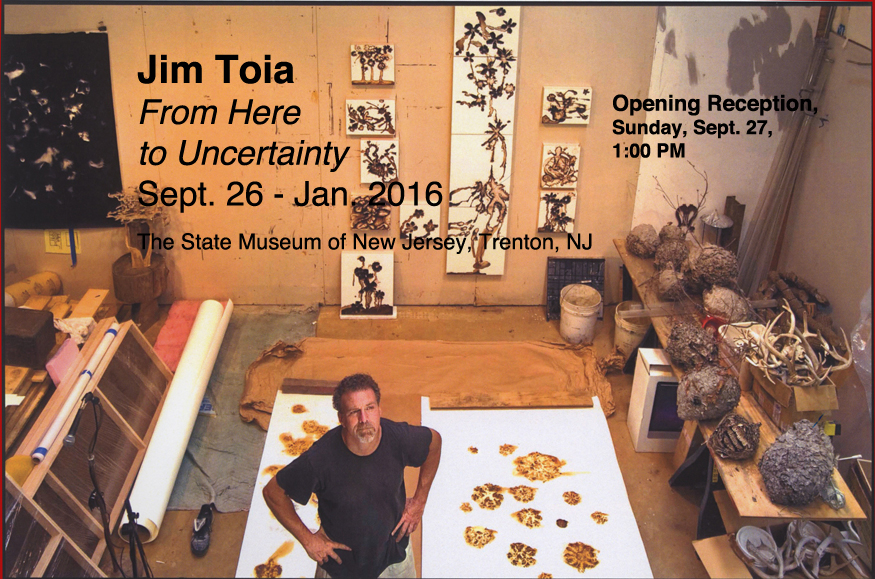 Read Article from WHYY's Newsworks
Read Article from The New York Times
Videos of Installations
Photos of Exhibit
The mid-career retrospective featured work from Toia's last 15 years of production and featured two new works, an interior installation incorporating live jellyfish and a 100′ tree work resting on the museum's esplanade overlooking the Delaware River.
The museum exhibition was divided into three sections; Entropic Flows, the outdoor installations on the museum grounds. The Hall of Wonders, a hallway gallery education zone, and Futurepast, a gallery installation. The Hall of Wonders matched museum specimens with art works produced over the last fifteen years, linking the use of natural materials with museum specimens. For example, a inky cap panel painting resided next to a model inky cap specimen from the museum's science collection. Finally, the gallery installation, Futurepast addressed recent preoccupations with ocean life, marrying a large hollow log harvested from the shores of Merrill Creek Reservoir (within the Delaware River drainage system), with the aquatic flow of jellyfish housed inside the log, a forced relationship of the broader cyclical flow of water from ocean to sky to earthly terrain and back to the ocean once again.
An on-line catalog will accompany the exhibition with an essay by writer/artist Tom McGlynn:
"one can begin to understand the generative principle in both nature (and humankind as an inseparable part of it) , by being closely attentive: listening, watching, smelling, touching and generally remaining radically open to how the world presents itself to us. Jim Toia's overall body of work and the specific pieces he is exhibiting here remain true to this incentive: to use the intuited prompts and actual materials of nature to assemble an extraordinary array of sensitively conceived and beautifully realized works that figuratively "compose themselves".
This exhibition was made possible by a generous research grant from Lafayette College. Work courtesy the artist and the Kim Foster Gallery,www.kimfostergallery.com.